Metropolitan Area Planning Council
Metro Mayors Shannon Grant Basketball Tournament
Joseph A. Curtatone
Mayor of the City of Somerville
William A. White, Jr.
Somerville City Councilor President & Councilor-At-Large
Carrie Normand
Somerville Chairman of the School Committee
Paul Bockleman
Somerville Vice Chairman of the School Committee
David Fallon, Police Chief
Somerville Police Department
Jill Lathan, Director of Recreation & Youth
Somerville Recreation Department
---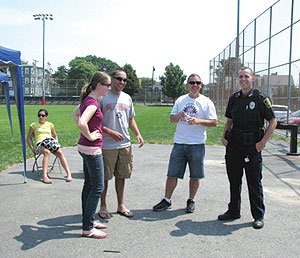 Background:
The Metro Mayors Community Safety Initiative receives Shannon Grant funds from the Commonwealth to implement regional strategies to combat youth violence, gang violence and substance abuse through regional law enforcement efforts, street outreach workers, job training programs and after-school programs.
Established with support of the Metro Mayors Coalition in 2006, the Charles E. Shannon, Jr. Community Safety Initiative supports innovative, regional approaches to youth and gang violence in our communities. The Metro Mayors Coalition Shannon Grant consists of eight communities: Cambridge, Chelsea, Everett, Malden, Quincy, Revere, Somerville and Winthrop. It is one of 15 sites across the state. The Shannon Grant works in concert with other programs, including the Safe and Successful Youth Initiative, Youth Jobs programs and DPH violence prevention grants.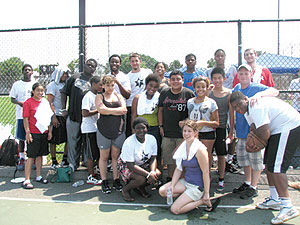 Jimmy Hui, President/Chief Executive Officer at The Jimmy Hui Foundation office is very pleased to announce that Somerville Mayor Joseph A. Curtatone and the City of Somerville will be hosting the 9th Annual Metro Mayors Basketball Tournament will be sponsored by the Metro Mayors Coalition, facilitated by the Metropolitan Area Planning Council, is a collaborative group that brings together 13 mayors and town managers from Greater Boston to find common solutions to shared problems.
The 5-on-5 tourney will include teams from Cambridge, Chelsea, Everett, Malden, Quincy, Revere, Somerville and Winthrop.
The Metro Mayors Basketball Tournament is scheduled on Saturday, August 5, 2017 begins at 8:00 a.m. through 1:00 p.m. at Trum Field: 1 Franey Road, Somerville, MA, between Ball and Magoun Squares.
The event will also include a 3-point contest, along with a DJ and dancing. Referees and Entertainers will volunteer their time, and local businesses have donated supplies such as food and basketballs. The rain site at: Somerville High School: 81 Highland Avenue, Somerville, MA.
Residents, persons with disabilities, citizens and the public are cordially invited to come and watch the Metro Mayors Basketball Tournament and cheer their favorite local teams at Trum Field throughout the summer season in the City of Somerville. The admission is always free at no cost!
Public Transportation to the Metro Mayors Basketball Tournament:
MBTA: Trum Field: 1 Franey Road, Somerville, MA:
Red Line: Stops at Davis Station
Bus Route #89: Stops at Broadway @ Cedar Street
MBTA: Somerville High School: 81 Highland Avenue, Somerville, MA: (Rain)
Red Line: Stops at Davis Station
Bus Route #90: Stops at Highland Avenue @ School Street